January 8-20, 2022 (to be rescheduled—watch here for new dates)
Have you dreamed all of your life of visiting Egypt? Have you dreamed of walking in the footsteps of the ancient priestesses and priests of the Mysteries? Have you always felt a connection to this sacred land? Can you imagine sailing along the Nile into the beating heart of the African continent, along the Nilotic Meridian, the ancient Golden River of Stars that connects from the Giza plateau all the way down to the sacred land of the White Lions near the southern tip of Africa?
Once we reschedule, please join facilitators Emily Horowitz and Debra Denker on a transformational journey into the Mysteries of Ancient Egypt. This magical land still holds a highly potent field and frequency of divine love and healing. It is our true honor and privilege to share Magical Egypt with you, a land and people so dear to each of our hearts and souls!
We have an extraordinary journey planned for you with the highest intention of holding space with heart and integrity for spiritual transformation and growth. From our first sunrise private ceremony embraced by the heart and paws of the Sphinx, to the impressive temples of ancient Thebes in Luxor, Karnak, and Dendera, and up the Nile to its fabled source at the first cataract in Aswan, you will be guided in ceremony and circle by Emily and Debra, and in history by our incredible Egyptologist, Emil Shaker of Quest Travel, famed for his knowledge of both classical Egyptology and the mystical practices of Ancient Egypt.
In addition to our sunrise ceremony between the paws of the Sphinx, we will visit the Inner Temple of Isis at Philae for a private pre-dawn ceremony, and have the incredible privilege of privately entering the King's Chamber in the heart of the Great Pyramid for a life-changing initiation that will energize your most sacred intentions.
Along the way, we will float like Ma'at's feather along the mighty Nile while cradled in our own private luxury dahabiya boat, the beautiful Afandina. We will visit temples, tombs, and sacred sites that have seen and heard millennia of prayers and praise to the generation and regeneration of life. A great Mystery Play will unfold as you learn and experience the ancient myths and magic. You will visit sacred temples associated with the mythic tale of Isis and Osiris—one of the greatest love stories ever told—the tale of a love so powerful that it was able to resurrect her Beloved, not once, but twice. As we visit and connect to each ancient temple's unique energy, we will be weaving a rainbow tapestry of our own transformation, in re-memberance of our own unique and divine selves and gifts.
Interwoven with our visits will be stories and sound meditations, sharing circles and ceremony, healings and heart-openings. Debra will share her incredible knowledge and wisdom with tales of ancient Egyptian myth and legend, told to her as a child by her Egypt-loving parents. Emily will share sacred sound meditations and ceremony with singing bowls, tuning forks, Shruti box and more, helping us harmonically attune to our authentic selves and the divine frequencies of Egypt. Likewise, Allison Pelissier (Allisun Shine) will share her Lucia Light, guiding us to expand our light frequency…. Indeed, All who have their own gifts to share will be encouraged to do so whether it be sharing a yoga class, bodywork, Reiki, etc.
We will experience the all-embracing warmth and hospitality of the big hearted Egyptian people, both on the boat and in our visits to simple timeless villages along the Nile.
Like the goddess Hathor, we will sing and dance a praise to the joy and vibrancy of life itself. Like the lion-headed goddess Sekhmet, we will find the fierce healer in ourselves. Like Isis, we will weave words and memories together to bring about a resurrection of love, and a reunion of Divine Feminine and Divine Masculine that can help to heal the Earth and ourselves. Like the goddess Ma'at with her sacred feather, we will walk in the way of Balance and Truth. Like the falcon god Horus, we will gain a higher perspective and embrace our sacred empowered Masculine. Like Osiris, the god of the underworld on a Hero's journey, we will open to the power of love to help us re-member who we truly are.
Throughout our journey, we will be nourished by delicious, healthy Egyptian cuisine. The Mena House Hotel has an exquisite buffet breakfast (imagine enjoying your breakfast in the warmth of the sun with stunning views of the pyramids!), as well as delicious lunch and dinner menus at their several on-site restaurants. While on the Afandina, our meals are made with love by chef Salah who learned his craft from his Egyptian grandmother. We've never tasted soup as delicious as Salah's! Vegan, vegetarian and gluten free options are plentiful and amazing in Egypt.
Here are links to our itinerary, photos to inspire you, details about how to sign up for this incredible journey, and frequently asked questions.
But first, introducing your tour leaders, Emily and Debra: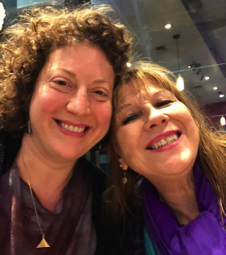 Emily Horowitz PsyD is a clinical psychologist employed at the New York Veterans Affairs Medical Center, as well as in her private psychotherapy and sound healing practices. She is also a co-investigator/study therapist for the MAPS Phase III Clinical Trial of MDMA-supported psychotherapy for the treatment of PTSD. She specializes in the treatment of depression, anxiety, PTSD, substance abuse disorders, and the integration of psychedelic and other non-ordinary-states of consciousness experiences.
Emily is dedicated to supporting others to explore and mine the depths of their innermost being for healing and psychospiritual growth and transformation. She has been exploring the power of sound, especially the gong and other harmonic overtone-emitting instruments, since her first transformational gong bath experience in 2008. Emily also has a long-standing interest in shamanism, indigenous cultures, ancient wisdom and healing modalities. She has been blessed to work with many wise medicine people/elders, and travel to and hold ceremony at sacred power places across the world including Egypt, Peru, Bolivia, Bali, Mexico, South Africa, Israel, and America.
Having had a lifelong fascination with Egypt, Emily travelled to this mystical land for the first time with master teacher Jane Bell in 2017, and again in 2018 (where she met Debra!). Emily fell in love with Egypt, her timeless sacred temples, the land, the Nile and of course the Egyptian people. Her life has been forever transformed by her journeys to this magical land and she cannot wait to share this extraordinary magic, joy and love with others.
Debra Denker has had a deep connection with Ancient Egypt since she was a small child. Her parents were amateur Egyptologists and her dad told her bedtime stories set in Ancient Egypt, usually involving a cat. Debra believes her past lives in Egypt were a big influence on her attraction to the healing arts, which she began studying in 1986 with Rev. Rosalyn Bruyere. Debra is an energy healer, spiritual counselor, ceremonial leader, and animal communicator. She is an ordained graduate of the Healing Light Center Church, and also practices Reiki and Healing Touch. She is a Certified Healing Touch Practitioner and Instructor, and has taught Healing Touch in New Mexico, Alaska, South Africa, and Tibet. Debra also loves to explore Sound Healing, and has taught workshops on using sacred Tibetan Bowls and Bells.
Debra considers herself an eclectic mystic. She loves the meditative practices of Sufism, Tibetan Buddhism, and Kriya Yoga and sees the essential Oneness in all spiritual traditions. She has learned much from indigenous shamanic teachers in the Southwestern US—where she is based in Santa Fe—as well as Canada, Alaska, South Asia, and South Africa, where she met the sanusi sangoma Credo Mutwa and first learned about the White Lions in 1993. She is blood sister to a woman of the Kalash tribe of the Hindu Kush Mountains, which she wrote about for National Geographic.
Debra has interwoven her healing path with a career as an international journalist, novelist, photographer and filmmaker focused on environmental, justice, and peace issues. She has traveled widely in Afghanistan, Pakistan, India, Nepal, and Tibet. She covered the Soviet-Afghan war and the plight of Afghan refugees, especially women and children, for National Geographic and has been published on a variety of subjects in many other publications. She is the author of three books, including her memoir, Sisters on the Bridge of Fire. Her most recent is Weather Menders, a cli-fi novel about reversing climate change through time travel. Currently she writes for the online conservation site Voices for Biodiversity.
Debra likes to focus on positive and possible solutions to the climate crisis and the biodiversity crisis, and the role of Consciousness as the wild card in the Great Rebalancing. In addition to her writing and speaking on these issues, she offers Climate Healing meditations and workshops and writes a cli-fi blog on her website www.weathermenders.com
Her lifelong dream to visit Egypt has been fulfilled twice with pilgrimages under the spiritual guidance of Jane Bell in 2018—when she met Emily—and 2019. Debra and Emily share a great reverence for the transformative power of the Ancient Egyptian mysteries and the healing power of sound and intention. They also both love dance parties and rainbows.
Jane Bell with Debra at Philae, the Isis Temple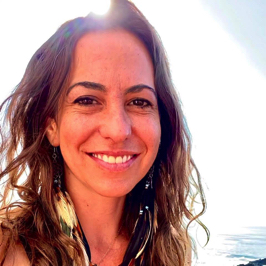 With an MA in International Education and Development, a BA in Political Economics and Psychology, and certifications in Yoga, Vortex Healing and other Healing Arts, Allison Pelissier (Allisun Shine) is deeply dedicated to human evolution. Her philosophy is that we are all manifestations of divine/source energy and the best way to help someone else is to hold space for them to remember their own power, cultivate and trust their intuition and thereby heal themselves, spreading this overflowing love to all those connected to them. Allison brings joy with her bright smile and deeply compassionate and playful relationship to life. Her passions include working with, learning about and sharing vibrational healing technologies such as the Lucia N°03, Quantum Sound Therapy, Sound Healing, Breathwork and plant teachers such as Cacao and other herbal medicines.